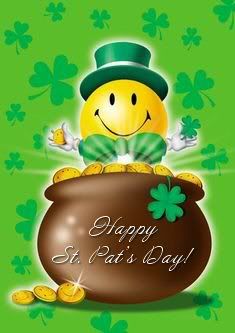 Glitter Graphics & Comments
Today we were attacked by leprechauns! I have always wanted to start doing this stuff for my kids and Ada is finally getting to be old enough that it is fun to do with her so today we had a blast! The day started off with a green bath. She really loves all the colored baths. She thinks they are so "ooooo pretty"
The leprechauns next attacked our breakfast and we had some yummy green waffles. Her face in the picture cracks me up but she loves waffles and its one of the few things that I can get her to eat a whole plate of!
I had to post a cute picture of Ada in her adorable St. Pattys day dress. Its been hot here again finally so I get to dress her in cute little summer dresses which I love. And she loves to cause she pulls them up and shows off her belly. Probably not the best thing for a girl to be pulling up her dress haha
Well after this mommy had to go to the gym. Nothing to fun there. Everyone did tell me how cute she looked in her green dress and I made sure to wear a green shirt so no one could pinch me! After that the leprechauns were at it again and attacked our lunch! Ada had green mac and cheese and peas which are already green duh.
Next we went to a place called Wazoos. Its this fun indoor place that has a bunch of blow up bounce houses and slides and a younger kid area as well. All kinds of balls and toys and just a bunch of fun stuff. The cool part is that until she turns 19 months she is still free to get in, as are adults. I should have started taking her here the second we got in town! She loved the place!!! It was our first time. We invited our neighbors along who have a son the same age as Ada and the two of them had fun running around. Ada had no fear in the bounce places. She thought it was so much fun to run into the walls and bounce off and fall down all over the place. She really loved the big slide and made me take her up it ALOT! Oh yeah the cool part is that I get to play with her till she is two! I know when Scott gets home we are going to be fighting over who gets to go play with her on the toys. Were such big kids! haha.
After wazoos it was home for nap time. Then when Ada got up we got to play in some green jello!!! This is was seriously so much fun. It took her a minute to realize that I was giving her permission to make a mess with her food. She thought it tasted very yummy cause she kept going "mmmmm" But then she got the hang of the making a mess part. By the end she was squishing it in her hands and splatering it on the table. The neighbors popped by for a bit of this as well and the two kids had fun throwing it all over the table. Big mess, but so worth it to see her having fun.
By the time she was done her hands and face were pretty welled dyed green. Even after I cleaned her up. We ended the night with some dinner and then playing outside with some bubbles. Bath time, books, flash cards then bed! It was a long day but so much fun! I had a blast with my baby girl